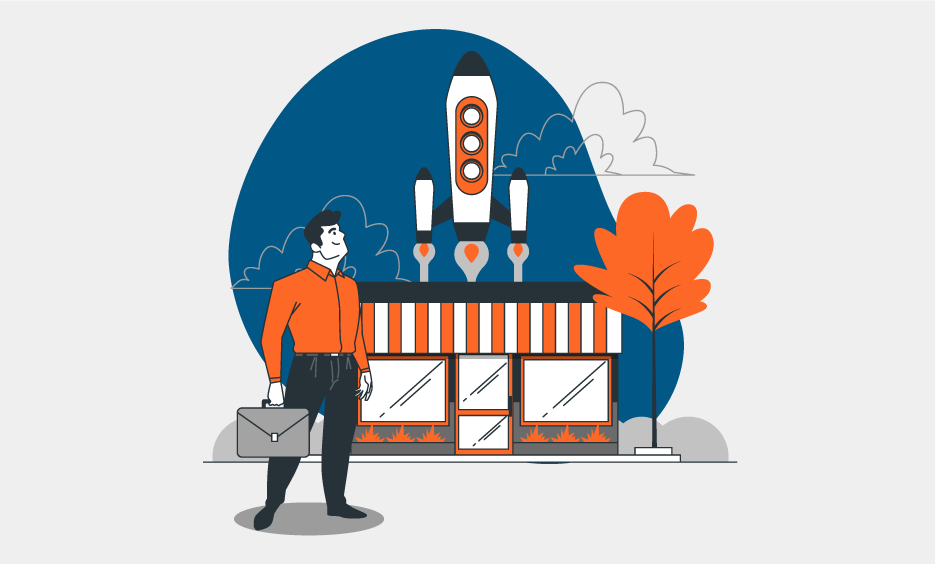 Marketing Automation for SMEs
The digitization of companies is picking up speed. This is particularly noticeable in marketing, because there are more and more marketing channels to play with. In small and medium-sized businesses, there is often not enough time for this. And it's not just about sales channels such as the website, social media or E-Mail Marketing. Many other processes can be digitized and automated. Marketing automation is designed to make everyday marketing tasks more efficient and customer-centric. To this end, marketers have a range of tools at their disposal to manage these tasks. This allows new customers to be acquired and existing customers to be maintained efficiently, without too much effort.
How can customers be acquired with marketing automation?
Person-to-person contact is particularly important in B2BB2B, auch bekannt als Business-to-Business, bezieht sich auf Geschäftsbeziehungen, bei denen Unternehmen Produkte, Dien... Marketing very pronounced. Nevertheless, it is in this area that marketing automation is particularly effective. Contacts can be excellently prepared in this way. Companies identify potential customers much faster than would be possible by traditional means. Companies no longer lose sight of customers and prospects and accompany them on their journey through the sales process. Automatic touch and contact points keep them connected to the company longer.
Prospects change marketing channels regularly, so companies must try to keep up. They meet their target audience where they are. Automation helps analyze customer behavior in seconds. The advantage of Online Marketing is that all measures can be measured and readjusted. Today's customer is demanding, because he expects interaction in both directions. He wants to communicate with the company at all times. Therefore, small and medium-sized companies also benefit from it, because the effort to win a customer is reduced.
Classic advertising is mostly hidden
Most interested parties fade out classic advertising. Too many stimuli are flooding in on the users. They search specifically for information in search engines and social networks. The Internet is a pull medium, so the company has to show up wherever the customer is in order to get information.
Marketing, sales and customer support synchronize their contact channels to get a common view of customer data. With software-driven automation, it is much easier to understand potential customers with all their needs and interests. This is the only way companies can identify and respond to individual needs. Automated customer journey management enables real-time monitoring and offers content personalization.
Customer service and quick response promotes customer loyalty
The bond with a company is no longer as strong as it was a few years ago. If service is not immediately on hand, there are enough alternatives on the web for customers to switch to. Intelligent tools help employees respond quickly to inquiries. Contacts sorted by topic can be immediately forwarded to the appropriate team. This promotes customer loyalty.
The effort required to accompany the customer is significantly less than with manual support. User-oriented content plus existing customer care can be significantly improved in this way.
The advantages of automated processes in detail:
effective customer acquisition
suitable leads for sales
target group specific marketing campaigns
time and cost savings
personalized communication
more freedom, as recurring actions run automatically
better customer understanding
An important point is the analysis of acquired data, as this reveals the return on investment of each individual measure. This allows the company to implement exactly those measures that are really worthwhile. Marketing managers no longer make decisions based on gut instinct.
Software tools guide the customer through the sales process
In practice, software tools take customers by the hand and guide them through the sales process. If a potential customer is researching a product or service, the company makes the first contact on the website. This can take the form of chatbots, a request for a white paper , or checklists. If the prospective customer enters his e-mail address, he receives a follow-up with further information after a few days. At the same time, the system informs a sales representative what the potential customer is interested in. As a result, the customer service representative is optimally prepared for the sales meeting.
Fewer canceled orders and more sales
Cancelled orders are a widespread problem for store operators. Now the system reminds the user of the open shopping cart. In addition, there are reminder emails as well as discount offers. If a user has a birthday, the system congratulates and offers a discount for that day. All this is done fully automatically.
This is why medium-sized businesses also benefit from marketing software
There are now a wide variety of software offerings on the market that give companies a clear competitive advantage. In the case of products and services that require explanation, it takes longer for customers to make a purchase decision. Here you should contact the prospective customer more often. Especially in B2BB2B, auch bekannt als Business-to-Business, bezieht sich auf Geschäftsbeziehungen, bei denen Unternehmen Produkte, Dien... Marketing, with e-commerce offers as well as digital products, automatic customer support is worthwhile. This can be implemented completely regardless of the size of an organization. Medium-sized companies in particular benefit from this, because here manpower is usually insufficient to handle complex marketing tasks manually.
With marketing software, the following tasks can be completed automatically:
Create and manage landing pages
Manage newsletters
E-Mail Marketing
Qualify leads
Contact management
Analysis and reporting
Multi-channel communication
Viele Softwareangebote machen Einzellösungen überflüssig, da sie alle Funktionen unter einem Dach vereinen. Der Webauftritt, Social Media, Customer-Relationship-Management sowie das Marketing sind dabei durch Schnittstellen eng miteinander verknüpft. Den Besuchern liefert die Software die für sie relevanten Inhalte datenbasiert aus. So betreuen verhaltensbasierte und automatische Arbeitsabläufe die Kunden rund um die Uhr. Wichtig ist die Integration der Software von Drittanbietern ohne nachträgliche Programmierung weiterer Schnittstellen. Dadurch lassen sich Folgekosten vermeiden. Als Full Service Agentur we provide comprehensive advice on selecting the right solution for your company.
A good price-performance ratio is important
Small and medium-sized enterprises need software that can be deployed quickly, with a good price-performance ratio. The primary focus is on user-friendliness with a learning curve that is as flat as possible. The license costs should be kept within limits and correspond exactly to the intended use. As a rule, these are cloud-based solutions that do not run on the company server. The advantage is that the respective provider takes care of maintenance as well as data security. Find out whether the provider complies with data protection rules. Disadvantage is a certain dependency, because once everything is set up, a later change can be expensive.
With over 300 providers on the market, it's not easy to choose, so it's best to ask yourself what exactly you need. The best-known representatives of the industry are, for example, HubSpot, Chimpify or Mautic. Meanwhile, there are even solutions for small business owners and freelancers who are looking for a user-friendly all-in-one solution. Sendinblue or Zoho are worth mentioning here, for example. HubSpot, Chimpify oder Mautic. Mittlerweile gibt es sogar Lösungen für Kleinunternehmer und Freiberufler, die eine nutzerfreundliche Gesamtlösung suchen. Hier sind zum Beispiel Sendinblue oder Zoho zu nennen.