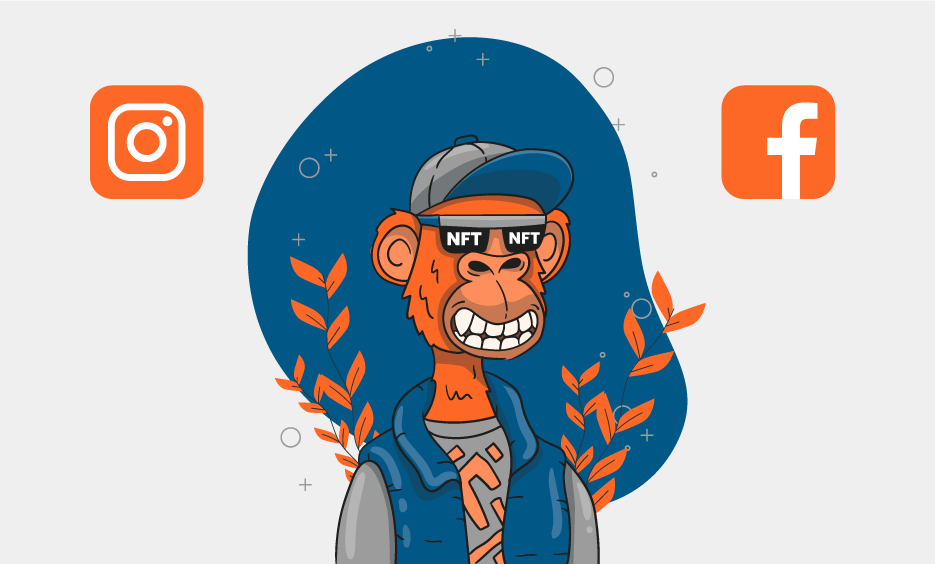 NFTs on Facebook and Instagram
Developments in social media marketing for businesses are shaping up rapidly. For example, the Meta Group, which owns Facebook, WhatsApp and Instagram, among others, announced that Instagram users will be able to create digital collectibles and sell them via non-fungible tokens (NFTs) in the near future. But what are the potentials associated with this? We got to the bottom of it for you with our online marketing agency.
Overview NFTs
In our last blog post, "NFTs in marketing" we already gave you the most important basics on the topic of non-fungible tokens and answered basic questions like:
·      What are NFTs?
·      What is NFT Minting?
·      Why is the demand for NFTs on the rise?
·      How can NFTs be used in marketing?
beantwortet.
NFTs represent an interesting opportunity to offer digital assets for sale or to acquire them and ensure a secure sale on the nft market. Blockchain-based technology also opens new marketing horizons for companies and enables the implementation of NFT marketing.
Meta with its own NFT marketplace
Meta launches its own marketplace for NFTs on its Instagram platform. In a press release dated November 2, 2022, the company announced that it will soon be possible to mine and sell NFTS on Instagram.
Via a planned toolkit, Instagram users will thus have the opportunity to create their own NFT collections via the Polygon Blockchain and subsequently sell them. This will give Meta users another way to decide how artwork is created and how they sell it.
By 2024, the creation of NFT collections will be free of charge. Meta also plans to cover gas fees for buyers in this context. However, there are fees for in-app purchases, App Store fees, which are 30% for Apple, for example.
NFT Marketing on Instagram
On Instagram, the so-called Digital Collectibles feature has been implemented in 100 countries, allowing users to connect to digital wallets and showcase NFTs they either created themselves or purchased. All connected NFTs can be displayed in the feed or contain a shimmering effect.
Via the latest update, developers can create their own digital collectibles and sell them inside and outside Instagram. The launch is initially on the Polygon blockchain with a small group of artists in the U.S. including Amber Vittoria, Refik Anadol, Jason Seife and Dave Krugman.
This is a first step that is considered a milestone in the nftmarket and will provide options around NFT marketing on the web3 for businesses.
Plans are also underway for Instagram to enable the display of video-based digital collectibles and provide support for the Solana blockchain and Phantom Wallet.
Outlook: NFTs in social media marketing at Meta!
Den Konzern Meta und dessen Aktivitäten rund um NFTs, unter anderem auf der Plattform Instagram, sollten Sie im Social Media Marketing unbedingt im Blick behalten.
Surely, this will result in completely new models in online marketing already in the near future.
Our full-service agency experts have their finger on the pulse and are keeping a close eye on all NFT developments for you. Perhaps there will be further updates on this soon, which we will report on for you.