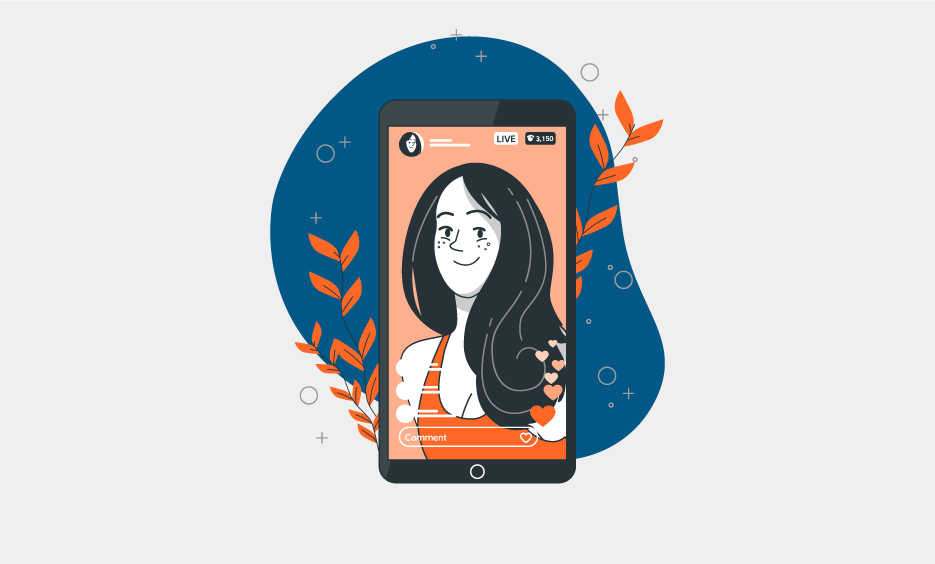 The social media channel TikTok
A brief portrait of the TikTok social media channel
TikTok is currently experiencing rapid growth in the digital world. The Chinese network of the company Bytedance was founded in 2014 as Musical.ly and has attracted over a billion people to date. The basic idea is to post videos with a length of fifteen to sixty seconds. These can be made particularly creative with the help of music, lipsync, and visual effects. For young people, TikTok is an important part of daily life.
In addition to the younger generation, TikTok is increasingly reaching young adults. Here, the focus is on mobile use, as many young people have the app on their smartphones. It is one of the most downloaded apps of all time. In this network, you can find teenagers, influencers, athletes as well as public figures who use this channel for their personal branding. With short videos, challenges as well as crazy ideas, fans can participate in the lives of their idols. In this way, content creators build reach as well as high relevance.
TikTok is well suited for reaching young target groups
This channel works great for marketing a business because reach and relevance are two key elements in social media marketing. If you want to use TikTok as a business, then you should check if your topics fit the primary content like fashion, lifestyle, music or communication. Young target groups can be reached mainly through creativity and emotional content. A boring commercial, press release or advertisement will not work on TikTok. Companies have to put themselves in the current context to be likeable and credible. So, among other things, there are a number of challenges that companies can respond too.
Social media marketing with TikTok
The social network offers a number of communication solutions for active companies. At the very least, TikTok is an interesting additional channel for attracting attention in this environment. If you want to reach customers in a casual way, this is the ideal way. With our online marketing from Munich, we help you find the right social media strategy to adapt to the specifics of social networks.
These are some reasons to make this platform work for you:
It is the fastest growing social media platform in the world.
Meanwhile, young adults can also be reached.
There are several ways to earn money with TikTok.
The social network offers numerous online marketing opportunities.
You can find the latest trends and respond to them.
The focus is on short video clips
In Germany, TikTok has a particularly large number of users, compared to other European countries. Here, everything is designed for short videos in portrait format that can be played full-screen. The video clips then go into infinite loop, which allows for a high dwell time. Unlike other networks, no account is required here.
You can switch to the next video by swiping vertically across the screen. Not even following is required to get to the content. The feed consists of two parts, once the "follow me" section and "for you", which contains videos selected by the algorithm. Anyone who maintains an account can upload video clips they have shot themselves. There are many different formats, on countless topics. No high-quality video equipment is required for this, as perfect glossy videos are rather distracting. The video shot with the smartphone is enough to look authentic.
Filters, visual effects and music
Users make use of filters and visual effects available on the smartphone, as the included tools offer creative editing options. An extensive sound library offers the possibility of setting music to music. Creating and uploading videos is easier than on YouTube, for example. Another special feature is the option to share the videos created on other platforms. That's why YouTube also has channels where TikTok videos appear.
What makes TikTok different from other social networks?
Almost all networks have now jumped on the vertical video bandwagon. On Instagram, it's the Reels, which always present users with new content in a feed. This is based on the user's interests and user behavior. You can compare it with the "for you" feed at TikTok. We can see how popular the concept has become at YouTube and Snapchat, which have introduced similar formats. However, only as an add-on option to complement other features.
With TikTok, the vertical video remains the core of the action. Users land in the video immediately, without distractions. Since there are no other areas, such as stories, the user is instantly there. With easy-to-use features and a very active community, new trends are always emerging.
New features are added regularly
The search function on TikTok is called "Discover" and is designed to encourage users to discover new trends as well as "content challenges." The "Duets" function makes it possible to reign in existing videos. This also exists on Instagram, with its "Reels," but these have hardly played a role so far. Features that encourage creativity keep the network dynamic. These creative functions have made TikTok the leading platform. On Instagram, Facebook and Co., user interests diverge further.
Companies must adapt their social media strategy to the respective network
Companies need to figure out where it is best to place their own content. On YouTube, vertical videos are called "shorts," but they compete with traditional videos and clips. Still, the platforms are becoming more similar. Whoever offers the coolest features wins.
Videos cannot be transferred at will
Many companies already use video platforms. But these clips can't be easily transferred to TikTok, because quick edits and transitions matter. This works differently than stories on Facebook or Instagram. Nevertheless, getting started on TikTok has advantages because not too many companies are active here yet.
What makes TikTok interesting for companies?
It's predominantly the dynamism and creativity that offers a lot of room for experimentation, without rigid rules. In addition, there is an excellent organic and viral reach, where the number of followers does not matter. An ideal environment for targeted online marketing.
Even with the first video, you can reach a lot of people because the platform is content-based. You can build large communities right from the start. Always ask yourself if your target group is on TikTok. If you want to address them in a controlled and direct way, you can book reach for money. With TikTok Ads Manager, you create your ad campaigns on people who exactly fit the target group.
Is TikTok becoming the distribution channel of the future?
TikTok has the potential to become a sales channel of the future. Younger consumers in particular are receptive to influencer marketing on social networks. We can see that the platform also has companies in its sights here with tools such as the new Discovery Tool. This allows trends to be tracked and offers to be scaled accordingly.
It supports brands and advertisers alike to adapt campaigns. A lot of information converges in this control center. You can use it to find out which topics are currently hot in online marketing, because it can be filtered by hashtags, songs and videos. Even regional trends can be recorded that are current in a company's catchment area. The trends over a longer period of time are interesting for analyzing changes. In TikTok's Creative Center, you can find all the options listed in detail.
Like the other networks, TikTok is developing more and more from the youngest towards the total population. This makes it increasingly attractive to businesses. Let our online marketing specialists from Munich support you now.