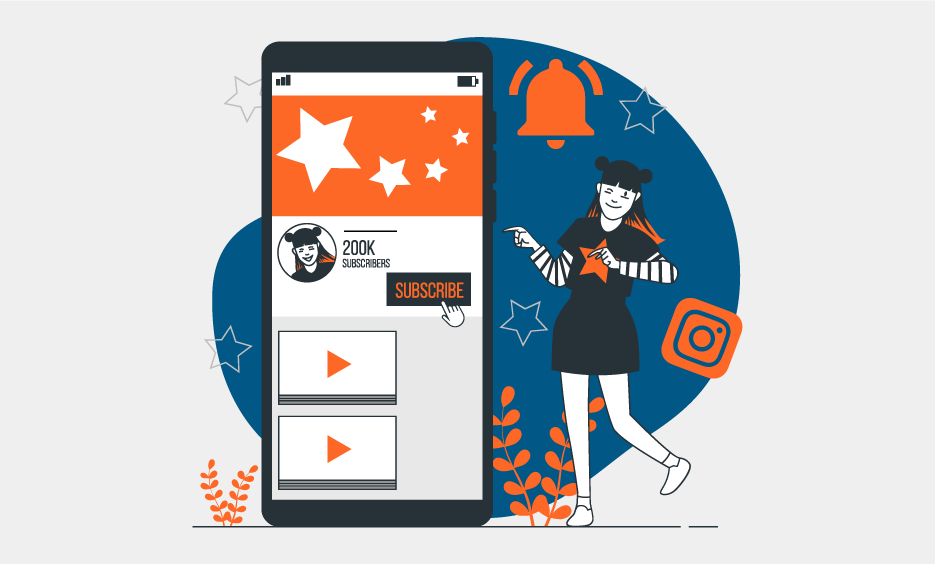 8 Tipps for Successful Instagram Marketing: How to Increase Your Reach
With one billion users, Instagram is one of the leading social media platforms and offers tremendous potential for your social media marketing. But how can you effectively use an Instagram business profile and achieve the desired visibility among your target audience? In this article from our online marketing agency in Munich, you will find eight tips for successful Instagram marketing that will help you increase your reach and achieve your goals.
Tip 1: Pay attention to consistency
Staying active is worthwhile in social media marketing and is the key to success on Instagram. Regular postings increase your visibility within your community and improve the behavior of the Instagram algorithm. Post at least 3 times a week and regularly share stories to keep your followers up to date. Our tip: Create a social media plan in advance that helps you consistently create posts and publish them at the scheduled time.
Tipp 2: Choose the Right Timing
The timing of your postings is as important as their quality. Use Instagram Insights to determine when your community is most active and post at those times. This increases the chances of your postings being seen by many users and allows them to react in real time and engage with your company in various ways.
Tipp 3: Share high-quality content
Avoid focusing solely on quantity and make sure that your posts always include high-quality images or videos. Ensure that your images are well-lit and sharp, and that your videos have a high resolution. Work on providing a textual description that is tailored in content and length to the shared content.
Tipp 4: Interact with your target audience
Interact with your target audience, ask specific questions, respond to comments and messages, and participate in discussions. Be mindful not to let too much time pass between comments and replies, ensuring that no response goes unnoticed. This behavior signals to your audience that you are interested in their opinions and needs.
Tipp 5: Make use of Instagram's technical offerings
Instagram offers you various formats and tools that are constantly evolving. Make use of all the options such as images, Reels, and Stories that the platform provides to stay present and engage with your audience.
Using Reels, for example, allows you to achieve a high reach with relatively low effort. Reels are short and dynamic video content that is particularly popular among users.
Instagram Stories are also a great tool to increase the visibility of your business profile. Use location tags, tag other accounts, add music, and use relevant hashtags to generate more reach.
Tipp 6: Ensure good networking
For optimal networking, it is advisable to collaborate with other accounts, influencers, or content creators. However, focus only on advertising partnerships that truly align with your brand, and ensure that the content creator creates content that aligns with your company's values and specific offerings.
Tipp 7: Utilize targeted advertising
Optimize your reach and target audience engagement by strategically running ads to generate followers. On Instagram, you have the option not only to promote your products but also to promote your account itself. This allows you to increase your visibility, attract more followers, and ultimately expand your reach on the platform.
Instagram Ads allow you to specifically target users who are not yet following you, thus helping you increase your reach in a sustainable way. You can place your ads in the Story, Feed, or Explore sections and set a budget that aligns with your goals. This way, you can effectively reach your target audience and promote your brand to potential new followers.
Furthermore, you can also employ free methods such as cross-marketing to promote your Instagram account. Businesses should raise awareness about their Instagram profile on their website, email signatures, and other social media platforms, and include links to the profile wherever possible. This way, you can leverage existing online channels to drive traffic and gain new followers on Instagram.
Tipp 8: Engage an Online Marketing Agency
A full-service agency can help establish and maintain a consistent brand presence on Instagram. They can ensure that your content aligns with your brand identity and business goals. There are numerous reasons why it can be beneficial to hire an online marketing agency to manage a company's Instagram profile. In addition to expertise and experience, you can benefit from time savings for intensive management and improved reach, as well as measurable results. An agency analyzes all activities on the Instagram profile, tracks metrics such as engagement, reach, and conversions, and makes adjustments based on that data to optimize the effectiveness of Instagram engagement.
Generating Followers: Achieving Successful Social Media Marketing on Instagram
Instagram offers a valuable platform for your company's social media activities. As an experienced full-service agency in Munich, we provide support to businesses in the B2C and B2B sectors in implementing successful online marketing strategies, including on Instagram. Our approach to successful online marketing begins with a thorough analysis and strategy. We take the time to assess the current state of your presence on Instagram and then develop tailored concepts that align with your company and target audience. At our agency, we understand the importance of creating engaging and visually appealing content. We work closely with you to develop captivating visuals, compelling captions, and effective storytelling techniques that resonate with your audience. Furthermore, we employ various growth strategies to expand your follower base and increase your brand's visibility on Instagram. This includes utilizing relevant hashtags, engaging with your audience, collaborating with influencers, and running targeted advertising campaigns. By entrusting your Instagram marketing to our full-service agency, you can focus on other aspects of your business while we handle the strategic planning, content creation, community management, and performance analysis. Our goal is to help you achieve tangible results and drive growth through effective online marketing on Instagram. Contact us today to learn more about how our full-service agency can assist you in realizing your Instagram marketing goals.